Ladyboy Kate – Good Girl or Bad?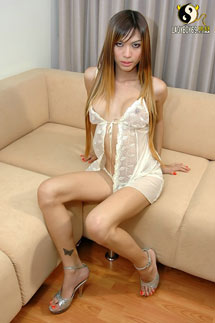 Kate is here on Asian Girl Surprise tonight.  This gallery is very hot. I still can't figure out if Kate is a bad or good girl.  Once you look at her hot photos you will see what I mean.  Some of the shots her eyes seem to tell you she wants to suck your hard cock and get fucked up her ass right now!  Other shots of this ladyboy show a cute sweet side where she like to tease you and have some fun before you screw this pretty Asian girl.  Which version of Kate will show up for you the one that licks her lips as she sees you take out your hard dick or the one that is shy and giggles as you walk into the room?
In either case this girl is fucking hot.  This Asian tgirl has long sexy hair, it has a wet look which to me makes her a little slutty but I don't mind that at all.  That sexy white lingerie that just barely hangs off her body is sweet.  It's barely even on her and you could tear it off her revealing those tight tranny tits in no time.  Also her good girl side of her shows her cute little white panties and the bad girl shows you the tattoo and the high heels.  I have the feeling that perhaps she may start out all innocent and sweet but then go wild and really let you have it. Wow I was just looking at that blog post photo again, she has one hell of a sexy look to her and that skin is so smooth, it was worth a second mention!
She has a beautiful smooth creamy long legs and nice nipples on a pair of round tits, a cute little ladycock and a great fucking tight ass.  I would love to slide down those panties, grab her ass cheeks with both my hands and penetrate that Asian pussy.  After pounding that sweet bottom and you pull it out all wet and hard dripping with precum she would look at you like the picture of her licking her lips and expect to have that warm dripping dick inside her mouth.  She wants to feel the warm flow of cum explode into her mouth while she masturbates in front of you. Good or Bad I want to have hardcore sex with this little Asian girl and I am sure you do to.  If you like Kate then why hot check her out at Ladyboy69, its got one of the best collections of high quality videos and photos.  They still have their 7 DAYS FREE program going on in October, but it's almost at an end, why not sign up and check them out.
Kate's Gallery