Ladyboy Lyn – Sexy, Sweet and Sizzling!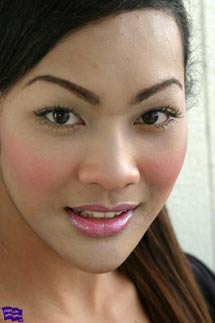 Cute ladyboy Lyn joins us today at Asian Girl Surprise.  This little young Asian tgirl is just too sweet.  She cums to us today with her long black hair, those midnight eyes, soft pink glossy lips and an innocent little smile. She looks sweet in her little outfit and short skirt.  This girl is very feminine and would be almost impossible to tell she was hiding something special in her panties. She is putting her hair in that sexy playful ponytail as well, what a pretty teen ladyboy she is.  She is the kind of girl that you would meet at the local mall.  Just checking out the latest candy lipstick and she notices you watching her.  Teasing you she gives you a little wink and that's when you move in.
You chat for a while and tell her how beautiful and sexy she is.  She blushes; she is shy but still wants to go back to your place to see your apartment.  Heading into the apartment you offer her a drink to loosen her nerves and yours.  After finishing the whole bottle of wine she is getting a little tipsy.  This Asian tgirl can't hold her liquor and she starts to kiss you all over.  She slides her hands into your pants and can feel how hard you are becoming and she takes her slender hand and pulls it back out to reveal some precum that is dripping off her fingers.  She giggles and puts the finger in her mouth and slowly sucks.  She isn't shy at all anymore, in fact she is getting aggressive, and she pushes you onto the bed and takes your pants off and quickly swallows your whole cock.  She gives you a hot wet again blowjob that get you so horny to see what is under this young girl's skirt.
She says she will be right back; she starts a bath and cleans her whole smooth creamy body.  She calls you back into the room and all you see is her on the bed with a towel covering her legs.  Her tight Asain ass is naked and waiting.  You move behind her and stick your hard cock into her tight shemale pussy as she moans with excitement. You wrap your hands around her and play with her tight little perky nipples that are on those tiny tits.  Fucking her for quite some time you finally notice that this girl has cock a shecock and it slips from behind her legs.  You thought you would be shocked but you are even more turned on and you're cum flows into this tight hole.  Not expecting you to cum inside her she moans in pleasure and you see her own tranny dick begin to ooze warm girl jizz all over your bed sheets.
Ladyboy Lyn and all her Kathoey friends are waiting for you at Captain Outrageous.  Defiantly one of the best Ladyboy sites around.  They update frequently with new photosets and all for just $14.95 a month.  They respect your privacy and have one of the best collections of girls anywhere.  So have some fun and check them out!  Captain Outrageous gets the Asian Girl Surprise stamp of approval!
Here are a few bonus photos for you to check out.
Aoy   Neuy  Lily   Ladyboy A