Ladyboy Nan Pink and Black Panties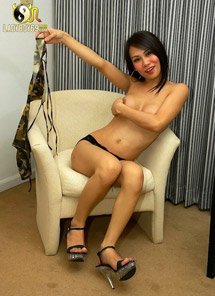 Ladyboy Nan is fast becoming one of my favorite Asian transsexuals.  Sure she isn't as popular as Ladyboy Mint or Helen from Ladyboy69 but there is something about this slender tranny girl that I really like. Another Bangkok beauty with a killer body with tasty tits, an amazing ass and a hard cock inside those panties.  I think I like her because she looks really shy.  She has got that look to her like she can't believe she is posing in front of the video camera and I just love that.  Obviously she can't be that shy since she is stroking her ladycock for us horny fans but I think if you approached her in the bar she is sure to blush when you compliment her.
I like her creamy light skin and those red cheeks of her only make her more desirable.  I would be happy with 95% of the girls on Ladyboy69 but I think I would have to put Nan in the top ten for the ones I really like to fuck.  I am sure you have your list as well.  Just so you know Ladyboy Eye is my all time favorite Katoey slut.  She just fucking blows me away every time I see her.  Well I am starting to ramble here, enjoy Ladyboy Nan and check out a photo from her brand new content.  Would you like to get in Ladyboy Nan's pink panties?