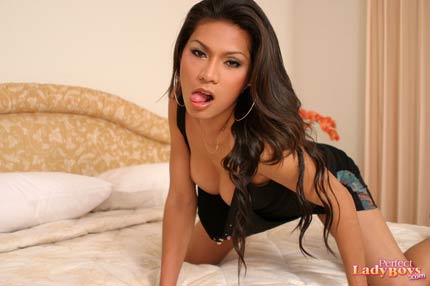 Ladyboy Bareback is once again making an appearance on my site.  If you are unfamiliar with the ladyboy bareback term I will tell you all about it.  The term bareback basically means having unprotected sex.  Just a raw hard cock pushing deep into a tight Asian ass.  No Condom at all just pure hot wet and sticky cum throbbing sex.  Why does it attract so many people?  Well I would have to think it's partly do to the risky aspect of it.  Also the way it feels is a lot more exciting both for the guy sticking his cock deep in and for the horny ladyboy that is receiving this special gift.
It's your choice if you would like to participate in ladyboy bareback sex.  I would make sure that she is clean before I did it but I can tell you one thing, if you do it or not it is fucking really hot to watch.  Seeing a girl like ladyboy Benz take a raw cock out of her ass and sticking it into her mouth and then giving a guy a blowjob is fucking crazy sweet.  Seeing her open her mouth wide open as warm cum enters her mouth is even crazier, and then swallowing that warm cum inside her mouth.
I forgot to mention that all the girls on the site take it bareback.  This isn't a one movie here and there.  Just the sexiest cumsluts all waiting to take it deep inside of them.  If Benz doesn't tempt you then perhaps a taste of Ladyboy Cream!