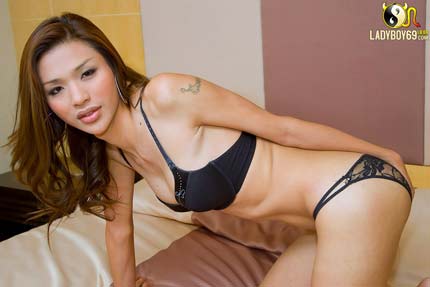 Kayla is the next beautiful girl on Asian Girl Surprise and damn she has one fine feminine body.  Leave it to the Asian katoey babes to just drive your cock wild.  Seeing her walk towards you in a bar or just on the beach as you relax in the sun would be incredible. I love her lips; they would no doubt give you a great blowjob. She works at Casanova Bar in Bangkok and I am positive she gets lots of attention.
I hear that Thailand workers don't expect you to give them a tip for drinks and dinner but I have a feeling I would be giving this beautiful girl tips all night.  The tipping culture is a little different but I am sure they wouldn't mind getting some extra cash.  I am sure Kayla would appreciate it even more and you just might get some naughty action for helping her out.

THAT GOT A NEW SEXY GIRL NAMED JEAB THAT I JUST ADORE. I ALSO GOT A NEW UPDATE OF MY LADYBOY 69 REVIEW MAKE SURE TO CHECK IT OUT!