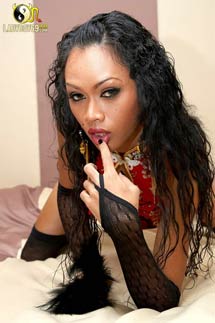 Ladyboy Mint is back in her new fucking hot gallery.  If you have never seen this girl then you are going to be in for a huge surprise.  At first glance at this little Asian cutie you are pleasantly pleased by this young girl.  Her curly black hair, those dark Asian eyes and sweet smile and moist red lips. She just looks so sweet and innocent, she has got a sexy little red outfit on with some lace gloves and knee high stockings and she is a pretty little thing.  However, you haven't seen anything yet.  She sure has hot tight tgirl tits, hand grabbing breasts with perky nipples and a hard tummy.  She even has a sexy pair of long legs and tight little ass that just loves anal play.
It's when she takes off her black panties that you are in for a real treat. What breaks this girl away from all the rest of the Kathoey girls in the world?  Well how about one of the biggest shecocks you are ever going to see.  I still can't believe how big her dick is.  Throbbing, cut with thick veins just running along its long shaft.  I have seen this girl dozens of times and her cock always surprises me.  Hell sometimes I actually think its getting bigger and bigger.  She has a special gift if you love the girls that are packing something enormous.  She can even bend down and suck her self off in a wet blowjob when a man isn't around to play with.  If you are wondering if she tops, well she does, you think you could handle that big piece inside you.  She will be gentle, at first.
Want to see more of Mint, well she appears on Ladyboy69.  A great site offering:
One of the biggest collections on Mint
Exclusive Photos and Movies of High Quality
Secure and Private for Members
Contact Information of all the girls
Members Forums to chat it up and voting for these hotties.
So many hot girls on this site.  Just like Ladyboy Benz.  Benz has a Brand new gallery that should be on the site tomorrow, from what I hear she looks even hotter then below if you can believe that.  Have Fun