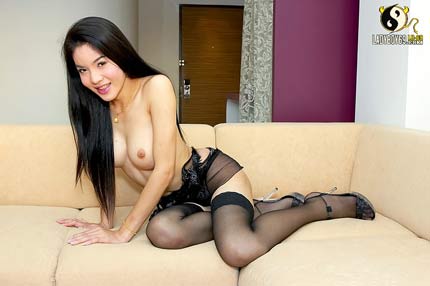 How would you like to see this Kathoey girl crawling towards you on the couch?  Ladyboy Pekky is here tonight to take your attention away from the big game on television.  Think she will get your attention in this hot outfit.  Sexy bra and top, cute tight black panties, long legs inside some sexy long stockings and a pair of hot heels.  Pekky is one cute innocent girl.  She looks so sweet with that long black hair and her milky skin.  She looks young and inexperienced but she will still give you the best fuck of your life.  She as sweet pink lips, that lower lip would look smoking wrapped around a hard throbbing cock. This Asian Girl also has very sexy tits.  Round and firm with Pekky perky nipples.  She loves to have her man just suck and kiss her breasts, it makes her feel like a sexy woman and the more you treat this shemale as a girl the more action you are going to fucking get.
It's easy to do so because she is so feminine.  Who would know that this beautiful Thailand tgirl has a wet little cock inside those panties?  She would be the envy of all your friends.  How did you get such a hot fucking girl they would tell you not knowing that she is a lot better then any girl.  She has a tight shemale pussy and a hard cock for you to swallow.  She could easily distract you from anything looking that beautiful.  When she spreads her legs wide open while she is on her knees and those panties are just below her hot butt you would have no choice but to put down that TV controller and take out your wet throbbing cock and push it into this young girl's ass.
After you anal screw this cutie you will have to sit her down on the couch, open those slender legs and taste that sweet Asian dick.  Pekky has a hot tranny rod.  Cut, thick cock with the blood just rushing to the head of her shaft.  She anticpates your mouth slowly moving down her cock then you can see her lady juice start to seep and drop to your lips.  She stares at you with those suck my cock now eyes and pulls your head over her Asian surprise.  Tasting the salty precum and swirling your tongue all around, she eventually erupts and moans and screams in pleasure.  You can feel a warm sensation enter your mouth and run down your throat as you swallow her girl cum. You stand up with cum still dripping from your lips; she drops to her knees and swallows your whole cock in one motion.  You pump your warm jizz back into her mouth to return the favor.
You can see a small smile at the corner of her mouth as she takes all of you in.  Standing up she kisses your lips hard.  You can taste her and she can taste you. This was much better then watching that fucking game.  Do you like Pekky?  Then why not check her out at Ladyboy69.  One of the premiere Ladyboy Sites in the world.  They have high quality photos and movies and they update frequently with the most beautiful Kathoey girls you will ever see.