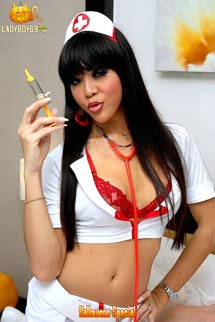 Ladyboy Lusi is back with a few sweet movies. She is playing the naughty nurse and she looks fucking amazing.  I would pretend to be sick or injured if I could have this gorgeous girl as my personal nurse.  She sure knows how to make you feel better with her remedy for hot cock and sex.  She could take your temperature with her hard Asian cock.  What a hot little outfit.  Cute red and white skirt and top and red fishnet stockings.  Hot sexy red bra that hold a pair of beautiful tgirl breasts.  Amazing tight firm body that would help keep you warm if you have the chills and a hard cock to drink her cum medicine all night long.
Her skills as a nurse are very impressive, not to mention her sexy long dark hair, those beautiful Asian eyes and soft red lips.  How could I forget those white boots as well? This is the kind of sexy Asian transsexual that could break you out of a coma.  Spending years asleep then dreaming of a sweet perfume, a warm body and a hard dick awaken you to see the really thing.  She has been sucking you off for years and is so please to see that you are staying erect and ready for action.  All your muscles start to work again, starting with your shaft. You are surprised how feminine she is, the tgirls or your decade looking nothing like her and you instantly develop a crush and of course lust.
Lusi is one of many beautiful girls on Ladyboy69.  They have amazing high quality photos and movies for your enjoyment.  Secure and private and updated all the time.  They even have a new gallery of Mint coming.  Here is one of my older posts of her just to remind you of how hard her cock is.  Have Fun and enjoy all the hot Asian TS girls.
Like your girls a little sweeter then this innocent girl should grab your attention.  Kathoey Girl Ice is her name.