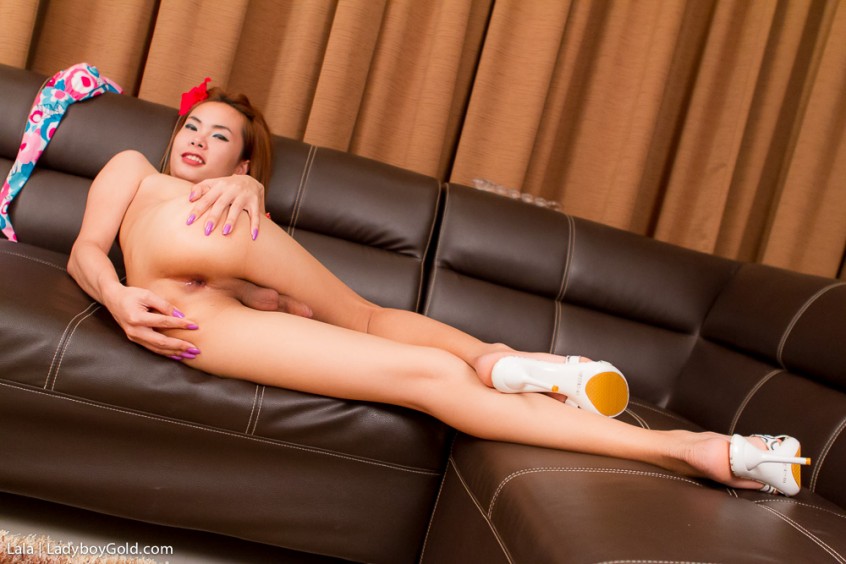 There are many beautiful ladyboys in this world and a great place to find them is in Pattaya, Thailand. Much like Lala here seen with her cute red hair, long legs and sweet curves are only a sample of what you are going to find. Lala has a fresh face over at Ladyboy Gold and with her hot thick cock she just loves sex and a lot of it. This is her second appearance on the site and both of the videos she does some hot bareback action. She is one of those special girls that stay nice and erect as she gets screwed and the video that goes with this scene she also cums while the guy is inside of her. That is probably one of my most desired actions for a ladyboys, love seeing her reach orgasm when I am inside of her and I think Lala would be a perfect girl for that.
Lala contact information is also inside of the site so you can give her an email or perhaps a call. I am not saying she is going to go with you, but hey if she is single she would certainly show you around her city and her room if you came to Thailand. She might even be up for a long distance relationship. Really is hard to say but one thing is certain she is a cute one and there are lots of ladyboys inside of Gold to choose from. Who knows maybe you can work on 2 or 3 of them at the same time, just do not let the others know about it because you might be in for some big trouble!
HERE IS A PREVIEW OF LALA'S OTHER VIDEO STE ON THE SITE, AS YOU CAN SEE SHE IS JUST AS CUTE AND JUST AS HORNY!