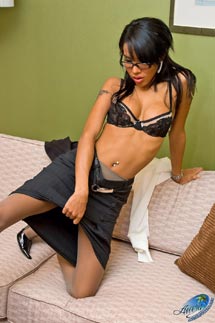 Areeya is back wearing a hot little secretary outfit that is sure to make you fucking go crazy.  Sorry for my delay on updating the site but my system board died and you know what happens when you lose access to your computer.  I just wish I had Areeya around to give me a hand when things go wrong.  When I am under stress from a hard work day maybe she will give me a massage and if I am really lucky a fucking hardcore fuck session.
Areeya is definitely one of the hottest girls you are going to find in Thailand if not the whole world.  Her body is as hard as a sweet piece of candy and you know you are going to want to suck that treat until there is no more.  She looks so fucking sexy with those glasses, hoes and of course that amazing bra that is sure to be busting out with her killer tits.  When you finally think you have had enough, it is then she whips out her throbbing cock under that skirt!

AREEYA'S WORLD IS FILLED WITH THIS SEXY ASIAN TRANSSEXUAL AND YOU CAN BET THAT SHE HAS A LOT MORE TO SHOW YOU.