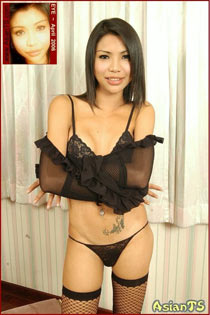 Tonight we have Eye, if I didn't know any better I was looking at a sweet Asian teen walking towards me in that cute black lingerie.  This sexy little ladyboy is adorable.  Her smile makes her look so innocent and shy, like this is her first time having sex. You will be her first hardcore experience to break her away from the virgin ladyboy that she is.  What a sexy slim Asian body she has.  From those small smooth shoulders, those plump tgirl tits, those smooth washboard abs, cute tattoo and finishing off with the cutest tight ladyboy ass and legs. Also can't forget those dark eyes that focus in on your cock and those soft full lips for wrapping around you thick dick.
Kathoey girl as some would call her, ladyboy for others. To me she is just a beautiful hot girl with something special hidden in those cute little black panties.  You might not even know that she has that at first.  You probably noticed her dancing at one of the bars you visit and had to get to know her, offering her a few drinks to loosen her up she decides that she would love to see your place. In your bedroom you could begin kissing those sweet soft pink lips and slowly take off that top of hers to reveal a hard set of ladyboy nipples that are just perfect for licking.  Moving down and kissing every inch of her stomach, slowly getting closer to those black panties where a wet moist pussy hides.
As you get closer to those panties you notice that they are starting to bulge, this is no ordinary girl, what you have here is something hard and thick inside.  Surprisingly this makes you horny and Eye sensing this slowly pulls out her ladycock and pushes your face towards it. Seeing those black panties and fishnet stockings together with a hot ladydick gets you hard and you swallow as much as you can of her Asian shaft.  After you give your first blowjob, this Asian shemale spreads her tight ladyboy pussy ass and awaits you to penetrate her.  She can't wait to feel that throbbing cock pulsate deep in her ass and you see precum flow from her head.
Her ass is as tight as a virgin girl when she rides your cock and she moves her Asian body to find that perfect spot where you both moan in ecstasy together. As she bounces up and down her tranny cock smacks against your chest and ladyboy cum flies into the air all over your chest and stomach. This girl's orgasm was hot and you quickly pull out your hard dick from this Asian ass and explode hot cum all over her ladyboy cock. This girl is smoking hot.  You want to see more of her?  Then check out her gallery and her site AsianTS.  She is only the first of many horny ladyboys waiting to cream their panties for you. Eye1