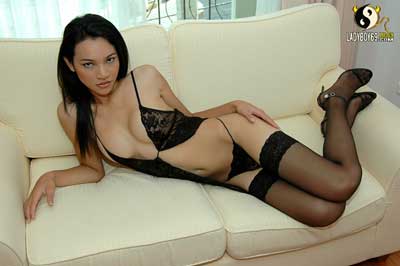 Yes for those of you who go to my sister site you have seen this post before.  I am posting it tonight since I don't have Helen on my main Ladyboy site and wanted to give the viewers that havent seen Helen a treat, since she is one of the hottest girls.  Don't worry I am having another post follow in a few minutes so stay tuned. Helen looks so innocent in her little black lingerie outfit. Asian girls know how to please and are well known for their oral abilities. You think that your girlfriend gives good blowjobs? Well I would know for a fact that Helen would put her talents to good use and put her to shame.
I can almost imagine it, going to Asia for my business trip. Dressed in a fine suit at one of the high class bars and approached by this little knockout. Sure she might want you to spoil her with presents and cash, but who cares. You only live once and you know she is going to ride your hard cock all night for the attention you give her.
Look at her, slim, tight and has a sweet hard cock for such a petite girl. The lingerie is incredible sexy, small little midnight panties with pantyhose and high heels. Wait, what is that, well maybe I spoke to soon, looks to me like a black thong. Quick and easy access to that sweet ass. Well click on the photo above and take a look at her gallery.