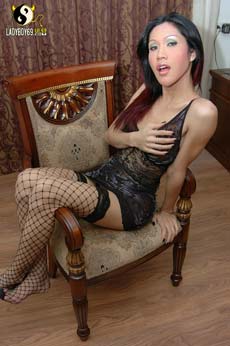 Ladyboy Lekk is here and wow is she ever a sexy young Asian girl.  I love the makeup over the eyes, gives her that shemale star look to her. Either that or an Asian shemale whore.  I suppose it would depend on the mood of this young hot girl on who you would get in the bed.  She is very lovely, long dark hair with the reddish tips, looks to be brown eyes that just stare at you from across the room along with that seductive I want you cock smile.  Beautiful pink full lips that would be hot to kiss hard.  She has light creamy smooth skin and a sexy little outfit on.  Black Lingerie, fucking sexy fishnet stockings and a pair of tight tgirl panties.  Those panties can barely keep her Asian shemale cock covered.
Taking off her lingerie she has a firm round set of tgirl tits, a great figure including sexy abs and a great round ass.  Cute little tattoo just over that fine ass, perhaps you will spill your male sperm all over that tattoo after you fuck that hard ass. You meet this fine kathoey girl at a friends party.  She asks you to go to the bedroom to talk since you can barely hear with all the noise at the party.  You go in and she locks the door behind you.  She slides down her outfit to reveal those tight panties and she moves her finger into her mouth slowly sucking it.  You are being seduced that much is obvious but you are all for fucking this sweet beauty.  She takes off all her clothes and stands in front of you completely naked.  She giggles and takes her hands off her cock. It's a fucking hot shecock, thick and long and throbbing with anticipation.  She moves towards you and puts you to your knees.
You are staring at a sexy pair of fishnet pantyhose and that hot Thailand cock, you lick the precum off the tip and begin to swallow this cute girl whole. She moans in pleasure and slaps her cock against your face.  Your dick is as hard as a rock by now and she can see it.  She moves to the bed and presents her tight shemale pussy ass.  You stick it in raw and she screams with excitement knowing that you think she is so sexy that you want to feel her bareback.  She shakes and moves that ass in such as way that you didn't think was possible.  This girl is making you super horny.  She looks back at you and bites her lips as you drain your cum into her tight ass.  She moans in ecstasy and you see her shemale cum splash from her hard shaft and spill warm jizz all over your friend's bed sheets.  You hope he understands but when you have a chance to anal screw a tight ladyboy you fucking take it.