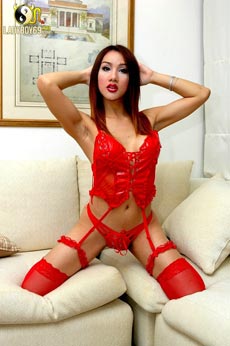 Love the color Red?  Well you are going to love this young Kathoey Girl.  Ladyboy Nadear is joining us today On Asian Girl Surprise and she is looking very devilish in her sexy red lingerie.  Sexy corset top, hot heat thong panties, garter belt and smooth pantyhose covering those long legs.  The only part of her that isn't red is those sexy black high heels.  Nadear even has red in her long flowing hair, her creamy light skin and her full lipstick lips.  Would you mind getting some of that red lipstick on your throbbing cock? She will definitely be smearing some all over your shaft as she moves up and down your hard dick.  That is this Ladyboy's favorite part to start by opening up your pants and see your erect cock dripping with precum.
Once she starts taking off that sexy outfit you really get a sense of what a Ladyboy is like.  Round full tgirl tits, cute hard perky nipples that love to be sucked and kissed, a beautiful tight Thailand ass and a thick red cut shecock.  She loves to get you excited by grabbing your cock with her slender hands and then grabbing her own and stroking them together.  She loves to see the precum drip off each cock and lube your own cock with a mixture of the juices.  It is then she will present that fine Asian ass for you to stick your cock in raw.  She may be a little shemale devil but you can't resist taking that sweet tranny pussy bareback.  She is anticipating that you feel this way but moans in pleasure when you give her that first push deep into her behind.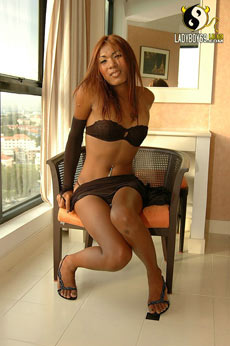 You anal pound this girl all the while her cock hangs between her legs just leaking more lady juice.  You stroke and massage her ladycock as you go in and out of this fine behind.  Finally she can't take the pounding anymore and you feel warm cum flow all over your hands.  This gets you fucking crazy horny and you quickly pull your dick out of her ass.  You were expecting to cream you're cum all over that fine ass but Nadear has other ideas.  She quickly grabs that dirty dick from her own ass and swallows your whole cock with those red lips firmly pressed against your shaft.  She looks up at your with those dark eyes and waits for you to drain your cock inside her mouth so she can swallow all of you.  Her favorite part to this sexual encounter.  When it's over she slides up to your face and kisses you hard, the salty taste still resides on her lips.
Well guys and gals.  There is more of this sensual ladyboy.  Nadear is one of the girls from Ladyboy69.  In my opinion one of the best Ladyboy, Kathoey girls sites you will find.  Updated frequently with high quality movies and photos and even phone numbers and locations of these beauties.  You will never run out of material to view when you are a member of this site.  They respect your privacy and all your information is secured.  Don't be nervous in joining, I was at first and have always regretted taking so long to make up mind.  Once I was a member I realized how silly I was before and now get to enjoy the sexiest girls in the world.  Still not convinced well here is a teaser photo to the right for you.  Lots of her too!  Check it out and enjoy yourself.