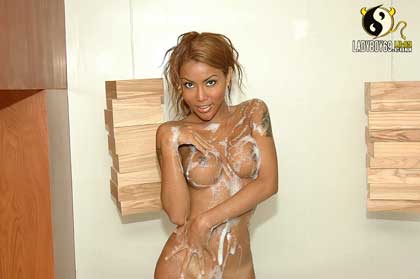 Ladyboy Areeya is back and she couldn't be sexier.  She is playing in her Jacuzzi and is waiting for you to cum and join her. Areeya is one smoking hot Asian girl.  Her bronze skin is amazing and it just glistens when hot warm water is flowing down her tight Asian tits.  Everything about this Kathoey girl just says cum and fuck me.  She is one of the top Asian girls anywhere.  Check out that cute innocent smile, those dark midnight eyes and that great body.  Even a couple tattoos on this girl, maybe she does have a bad girl side to her.  I sure want to find out.
Her body is so slim and it looks great with those bubbles all around her.  I would love to get into the hot Jacuzzi with her as she cuddles up to me.  I like her to reach into the water and grab my hard dick and start to massage me, and nice warm handjob.  She might even dunk her head into the water to wrap around those Asian lips around your cock.  She will have to cum up for air sometime and when she does you are going to get out of this hot tub and fuck that Asian ass all night.
When she cums up for air you stand her up against the wall and she spreads her shemale pussy open with her hands.  What a beautiful sight, a nice tight tgirl hole.  The water that is dripping off your cock along with some precum will help you as you slide into her tight butt. As you penetrate this innocent girl you can reach around and feel those nipples, they are getting harder with every thrust of your throbbing cock and Areeya is moaning loudly by now.  Who would have thought that this girl would moan so loud but she can't get enough of big dick inside of her.
As you push in and out you can see her cute little cock fall between her legs. You reach between her legs and begin to stroke that soft cock until it becomes hard and erect. You sit back down in the tub and she sits on your wet cock, she doesn't know if its the warm of the water or the warmness of cum that is entering her tgirl pussy but she doesn't care, you brush off the bubbles of her firm breasts and begin to lick her perky nipples with a swirl of your tongue.  Now you are fucking her in the ass, giving her a handjob and kissing and licking her tits.  Areeya can't take it anymore and explodes her lady cum all over your chest and into the water.
So horny from this experience you begin to cum warm jizz as well, its then you realize you forgot to wear a condom and you been screwing this Asian sweetheart bareback the whole time. She acts surprised at first as your hot wet fluid enters her.  When she realizes what is happening she is so fucking turned on that tgirl cum once again oozes out of her cock, a sweet multiple orgasm.  You want to see more of Areeya and more of her hot friends? Perhaps you can ask some of her lesbian girls to join you in the tub next time.  Check Areeya out at LAdyboy69, at amazing site for these special girls from Asia.