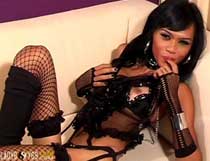 This Asian ladyboy never ceases to amaze me with all her talents.  Today Mint is back on our site to show us what we all love her for.  She is looking exceptionally naughty tonight in her dominatrix outfit.  Everything is in black for this naughty Thailand Tranny tonight.  From her mesh gloves, tight top, sexy leather panties, mesh stockings and some kick ass black lady boots for keeping you in line.  Sure at first glance when you see this cute Asian girl she may look sweet and innocent.  How could a girl as slim as this ladyboy be of any threat?  She has a cute face, tight little tgirl tits and a great little fucking ass.
When you are down on your knees and looking up at this sweet girl its then you will realize what you are in for.  Mint will slide down those panties of her to unleash the biggest Asian cock you have ever seen. Then you will bow down to this mistress. Any girl with a dick as hard and as large as that deserves respect and you should do whatever she says to get your mouth wrapped around that prize. This Asian is one of a kind and her cock is a hot and wet as they get.  She wants you to give her a wet blowjob but wants to teach you how first.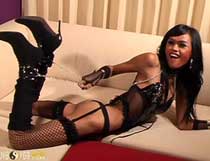 You would think that she would drop down to her knees and open your pants and stick her little soft lips over your hard shaft to teach you.  Not today, to your amazement she positions herself in such a way that those luscious lips of hers begin to wrap around her own cock. She strokes her own shecock to make it nice hard, and then she swallows her own cock to show you how it is done.  She licks the precum off the tip of her cock and the warm jizz slides down her tongue.  Mint has mastered the art of the self blowjob so you know it going to take a lot of practice to satisfy this horny girl.
Mint is fine with that, she still loves having a guy suck her dick and actually prefers it but loves to see the reaction of her man as she slides her own tool between her lips.  Another trick I am sure she could perform is sucking herself off while you screw her tight Asian ass.  She could be on top riding your hard dick.  As you fuck her Asian pussy she is surely to bend down and begin sucking herself off.  With any luck she will explode cum into her own mouth as you push deeper and deeper into her ass.  Then to prove that you are hers she would give you a long passionate kiss in which her own cum would flow from her mouth to yours.  She likes to dominant from time to time, do you think you could handle being this girl's property?  I know I would be game for that hardcore action.  Check Mint out at Ladyboy69.  This site fucking rules when it cums to Asian Girls.