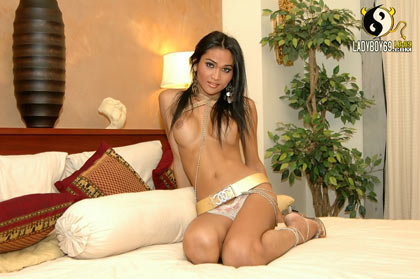 Want to go to Paris or would your rather fuck Paris?  Well this ladyboy is named Paris so I think I will take the fuck option.  This girl is fucking hot.  What a feminine figure on her.  Long straight black hair that falls on her round firm breasts, dark smoldering eyes, cute smile and one rock hard body.  This sexy young ladyboy is very well put together.  Bronze smooth skin, an amazing tight ass and a sexy shecock.  I love this girl's outfit.  The little criss cross top that gives you a glimpse of those tits that only get your juices flowing.  The sexy belt that holds those tight jeans. Could those jeans get any tighter?
 
She really is one fucking sweet girl.  Just under those jeans are little white cotton panties.  You know Paris is hiding a nice big surprise.  She also has great curves, those hips just flow into her ass and the legs are long and slender, perfect for running your hand all the way up and feeling that hard bulge that is forming in those panties. She is so slender and delicate; I hope she can handle a hard cock. I am sure she can.  Those innocent young girls always surprise you and end up being the best sex you ever had.
 
When you get back to the hotel just lie beside her and lick those tits while she strokes you off with her slender hands.  Then this young tranny will moves that body and slide down to your wet cock and swirl her tongue on your wet cockhead and she swallows you whole.  She loves to go down right to the balls and then come back up and lick your shaft all the time staring directly at you with those piercing eyes.  You could move you're hands down to those white panties and slowly slide them off to feel a warm wet cock and a tight shemale ass.  She is slim so it's going to be a tight fit to get your cock deep in her ass.  She will eventually take it all and ride your meat until you cum inside her ass.
 
Why not take a trip to Paris and check out Ladyboy69.  There are so many hot girls there is totally insane.  Videos and photos of the highest quality and is updated frequently.  The owners are great and respect your privacy. They want you to enjoy these beautiful Ladyboy Kathoey girls as much as they do.  So have fun!  Speaking of trips. I just found out that if you join in November you get a chance to win a trip to Thailand. Damn that would be sweet meeting some of those girls in person.  The prize includes the following:
 
-Air Fares to Bangkok, Thailand
-Airport Transfers
-Accommodation in a 5 Star Hotel for 7 nights
-Meet with the "Superstars" of LB-69